Vermilion's Soda Grill Gets New Owners!!
Vermilion's Soda Grill Gets New Owners!!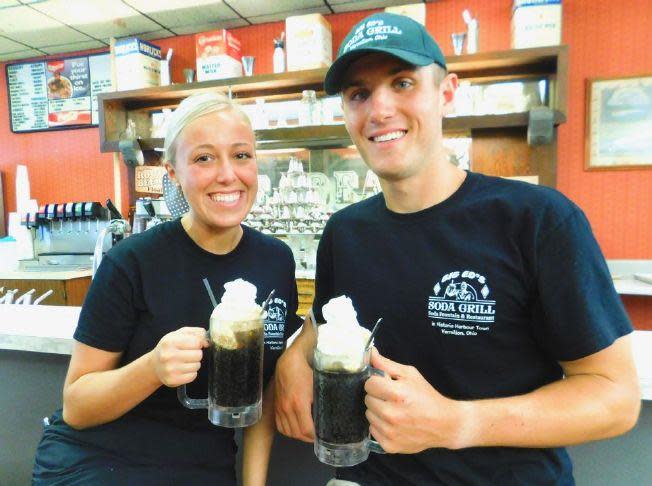 VERMILION — Before they adored one another, both John Austin and his girlfriend, Monroe Naill, individually fell in love with Big Ed's Main Street Soda Grill.
"I remember being here on the first night when this place opened up 21 years ago," said Austin, a 2013 Vermilion High School graduate. "We had many of our major family functions and important dinners here."
Added Naill, a 2015 Vermilion High School graduate: "If I got all A's on my report card, then my grandma (Candy Adams) would take me here and get me a vanilla phosphate," referencing one of the eatery's most popular item, soda water mixed with vanilla syrup.
And, of course, they met up for countless dates there, sitting either tucked away at a corner booth underneath timeless trinkets lining shelves or perched at the building's original soda fountain debuting nearly a century ago.
"We both take a lot of pride in this place," Austin said.
His statement is no more evident than their recent, collective acquisition.
Earlier this month, they took co-ownership of the soda grill, considered by many locals as an iconic Vermilion institution, located smack-dab in downtown.
This continues a family tradition, considering, back in 2000, Austin's grandfather Mike Tomshack Sr. — also known as "Big Ed," who died in 2006 — and Austin's uncle, Mike Tomshack Jr., started the business. The 150-year-old building previously served as the home for Hart's Drug Store and then Higgins before becoming the soda grill.
"We heard that the soda grill could have died if someone wasn't going to step up and take it over," Austin said. "That's when we knew we had to do this."
Naill nodded her head in agreement: "We are really thankful for this chance, for John's uncle to pass this down to us, and give us the opportunity to carry on this legacy."
Despite their ages, both have a wealth of local business experience in the service industry with a focus in restaurants.
In addition to running a lawn care service business, Austin worked at the soda grill during high school.
And Naill spent the better part of this past decade at Romp's Dairy Dock. She also recently became a school counselor at her alma mater, juggling those responsibilities with coaching Vermilion's cheerleading and basketball teams.
Following the summertime rush, Austin and Naill plan to shut down the restaurant for a few weeks for a much-needed facelift. They plan on upgrading the floors, furniture, fixtures, seating areas and other amenities.
Loyalists, however, shouldn't worry too much.
"We're going to still keep this a quaint place," Naill said. "We aren't going to change that old-fashioned, nostalgic look."
Naill then pointed to the hundreds of souvenirs and merchandise covering the east-facing wall, paying homage to Big Ed's, Hart's and Higgins' storied histories.
Meanwhile, the main menu items — such as the egg creme; brown cow, Big Ed's version of a root beer float; and the traditional banana split — should remain constant fixtures. The restaurant will also continue to serve up fresh, made-to-order hamburgers, hot dogs, sandwiches and other dishes. Both expressed interest in expanding the menu with new entrees.
By maintaining some aspects and evolving others, their main goal revolves around making the soda grill a true gathering spot.
"We want to be a bigger fixture of the community," Austin said.
Naill then chimed in: "I want this to be the first place where high school kids think about coming for a burger or shake after a game. While we've predominantly been a tourist attraction, we want to do whatever we can to bring in more locals because we are all about community. We are proud Sailors, and we love this town and community."
Additional Info
Source : https://sanduskyregister.com/news/330283/vermilions-soda-grill-gets-new-owners/?fbclid=IwAR1LH-Pr5F4IG-VH7h4V8nXnylh17SS_Ij_bbup7YLr8pHFBAlmM2WPRMig